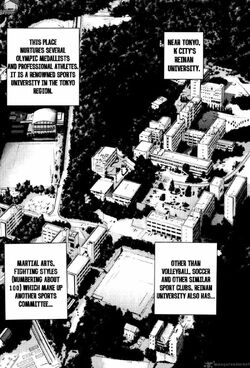 Reinan University (嶺南大学) is a college in K City. Reinan nurtures several Olympic medallists and professional athletes. It is a renowned sports university in the Tokyo region. In this university, sports are king and academics are secondary. Most of the other colleges and students laugh at their poor academic standards and has such dubbed them the "Idiot University". Even Reinan's own students recognize that they should have a job at the start of their 4th year, because considering the history at the academically challenged university, it'll be difficult to find jobs after graduation. It's a recurring trend that some of the third years (or below) laugh at the graduates because of their inability to find work             
Ad blocker interference detected!
Wikia is a free-to-use site that makes money from advertising. We have a modified experience for viewers using ad blockers

Wikia is not accessible if you've made further modifications. Remove the custom ad blocker rule(s) and the page will load as expected.