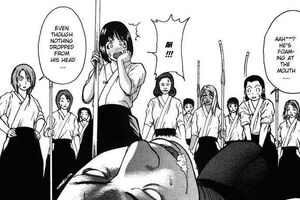 80 Years since its foundation, The Naginata Club has 41 Members. It was was founded the same time as the foundation of Kyohan University. Alongside the Judo Club and Kendo Club, it has a history of winning in student competitions 20 times. and It is a famous club, and club members are of course all female, It comes in 8th of Hyakubukai Ranking Chart.
Ad blocker interference detected!
Wikia is a free-to-use site that makes money from advertising. We have a modified experience for viewers using ad blockers

Wikia is not accessible if you've made further modifications. Remove the custom ad blocker rule(s) and the page will load as expected.