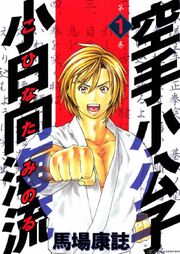 Karate Shoukoushi Kohinata Minoru or 空手小公子小日向海流 is a manga created by
Yasushi Baba
.
Kohinata Minoru is a college student at a college that is popular for its sports rather than academic orientation. He starts out as a gymnast alongside his friend, Misaki Nana, but is bullied by his gymnast seniors. One evening, a karate student at the college, Mutou Ryuuji, witnesses Minoru being bullied and comes to his rescue and drags him into the world of karate. Minoru makes new friends and learns some of their dark pasts, including a shocking death that reveals motives for revenge.
Characters
Edit
Ad blocker interference detected!
Wikia is a free-to-use site that makes money from advertising. We have a modified experience for viewers using ad blockers

Wikia is not accessible if you've made further modifications. Remove the custom ad blocker rule(s) and the page will load as expected.